On Tuesday March 15th the Football League announced its nominations for Apprentice of the Year 2016. Much to the delight of the fans, staff and player himself, Swindon's Tom Smith is one of the three nominated. I am grateful that one of Towns newest starlets took the time to speak to me as I try to get to know him a little better.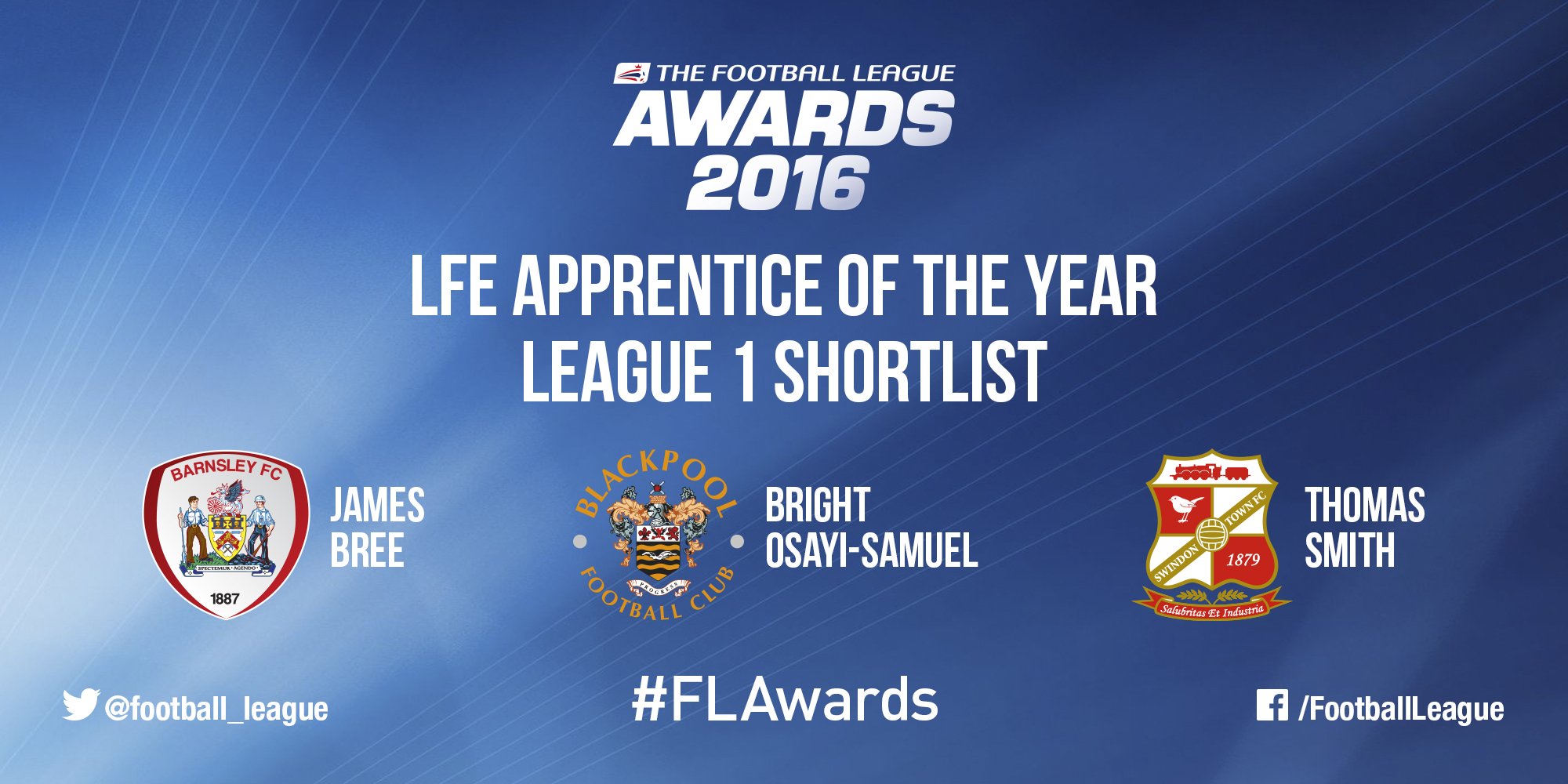 credit @football_league on Twitter 
Hi Tom, thanks for answering my questions. You made your debut toward the end of last season against Preston, how did you feel ahead of the game?
"There was a sense of nervousness inside me, but that's a natural feeling to have. I didn't know if I was playing or not, but I was hungry to play and prove myself in front of a big crowd."
"I started the game well enough to feel comfortable playing in that situation. It gave me that confidence to have the freedom to do anything."
You scored a very memorable first professional goal earlier this campaign, what was going through your mind during and after?
"You can't really describe the feeling of the goal. It was just unbelievable and I was happy to get Swindon back in the game."
Take a look at @TomBeauSmith4's Tweet: https://twitter.com/TomBeauSmith4/status/679773030583767041?s=09
Your performance meant you made the team of the week, how did that make you feel?
"I did not expect this. It came as a shock. This alone was a great achievement to be recognised."
 With such a buzz around you after that goal and that performance, did you hope to be more involved in the first team?
"I hoped for more involvement but I never expected anything."
"After the Crewe and Newport games I felt at my highest, but as we know in football it doesn't always happen as you want it."
"I am only a second year scholar so to get the opportunity in the first place, I'm grateful."
 What are your ambitions for your career going forward?
"I would love to play league football week in week out at 17-18 years old.
 You have been carrying an injury for a while now, how is the recovery going?
"Not too bad. I'm near the end of the rehab so shouldn't be too long before I am back out playing."
"It is just one of them things. Unfortunate timing for me, however I just have to take it in my stride and get fit again ready for the end of season/preseason."
I hoped you would be ok with going a bit old school next with some quick fire questions:
 Favourite ever football player? Paul Scholes
Who did you support growing up? No preference. Man United as I was growing up. Swindon now.
Favourite music artist and song? Champagne Supernova / Oasis.
Your favourite memory in football? Apart from the obvious scoring my goal, Barnsley away when I was walking off the pitch on my own and I got clapped off by all the away Swindon supporters. Just made me feel part of the club and respected as a player.
Can you tell us something interesting about yourself? I snowboard.
 I would like to thank Tom for taking the time to speak with me, wish him all the best in his recovery and look forward to seeing his continued development.